Vehicle Door Systems – Bus Doors – Doors for Special Vehicles
Development, Production, Distribution, Spare Parts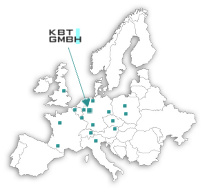 As an internationally operating manufacturer of systems for vehicle doors – KBT has constantly focused on delivering high quality products to its customers. This not only applies for new door systems, but also the field of spare parts because, in everyday life, vehicle door systems are subject to a high amount of stress.
Due to its quick, creative product solutions, KBT as a development partner has been extremely successful in meeting a very high level of customer satisfaction. Reliable, excellent products, combined with flexible on-time delivery, as well as long-term relationships based on a spirit of partnership with our customers and suppliers, represent the key elements on our way to continuous success. The core competencies of KBT GmbH consist of: Development, Production and Distribution of door systems for buses, fire service-, rescue- and a range of other types of special vehicles.
Overview of our Services:
Construction and production of new vehicle door systems
Delivery of spare parts to the following companies: Kiekert, Hübner, Webasto and Iveco Door Systems
Customer-specific on-site training and support
Cross-system technical support and hotline.
Please find more information on our vehicle door systems - or feel free to contact us directly!